Water Treatment & Production

What is a Decentralized Water Treatment & Supply System?
It is an independent water treatment & supply system that employs high-performance membrane filtration to supply safe and clean drinking water. The system is custom-designed to treat water from wells and is installed within the customer's compound. The system also contributes to preparedness since it realizes dual-source water supply of well water and public water supply.
Advantages of installation
The advantages of installing our water treatment & supply system are as follows.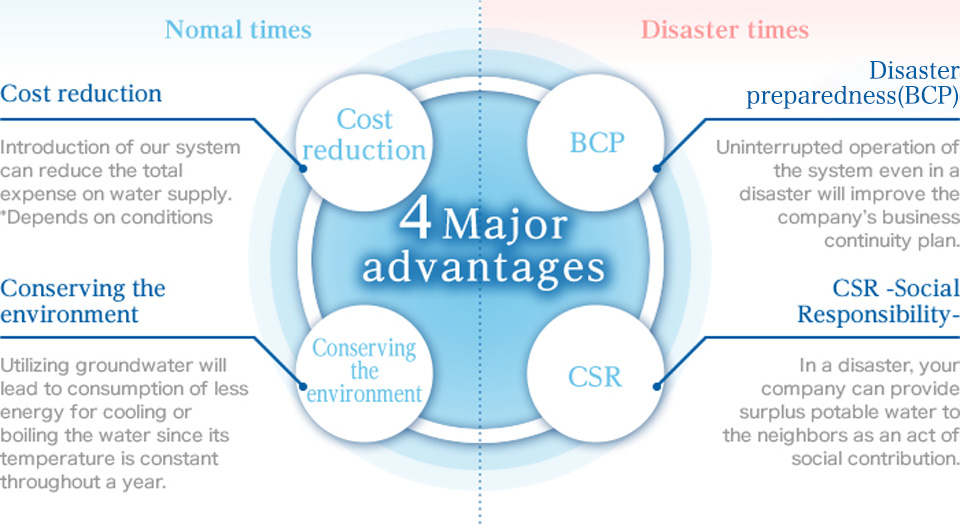 Basic treatment process

Groundwater Intake

Groundwater is pumped up from a deep well (aquifer deeper than the impermeable layer) and stored in a raw water tank.

Primary Treatment Process

Water is filtered to the level of drinking water standard by a sand filter.

Membrane Filtration

Pre-treated water is subsequently filtered through hollow-fiber membrane with microscopic pores in order to produce clean water. Bacteria like O-157, and protozoan like cryptosporidium etc. can be removed here.

Treated Water Tank and Water Quality Monitoring System

Treated water is reserved in a treated water tank and the quality for potable water (amount of residual chlorine in the case of Japan) is monitored continually throughout a year. The system will stop automatically if the monitoring system finds any problems with the water quality.

Water Supply

Water is supplied to a storage tank. Here, groundwater is blended with municipal water. Having a dual potable water supply system contributes to supplying clean water in emergencies. In case of system failure, the system will shut off the groundwater supply and switch automatically to municipal water supply.
Safe water supply using a deep well
We use deep borehole wells as water sources and make sure the water is taken from an aquifer deeper than the impermeable layer. Deep aquifers are protected from contamination by surface water.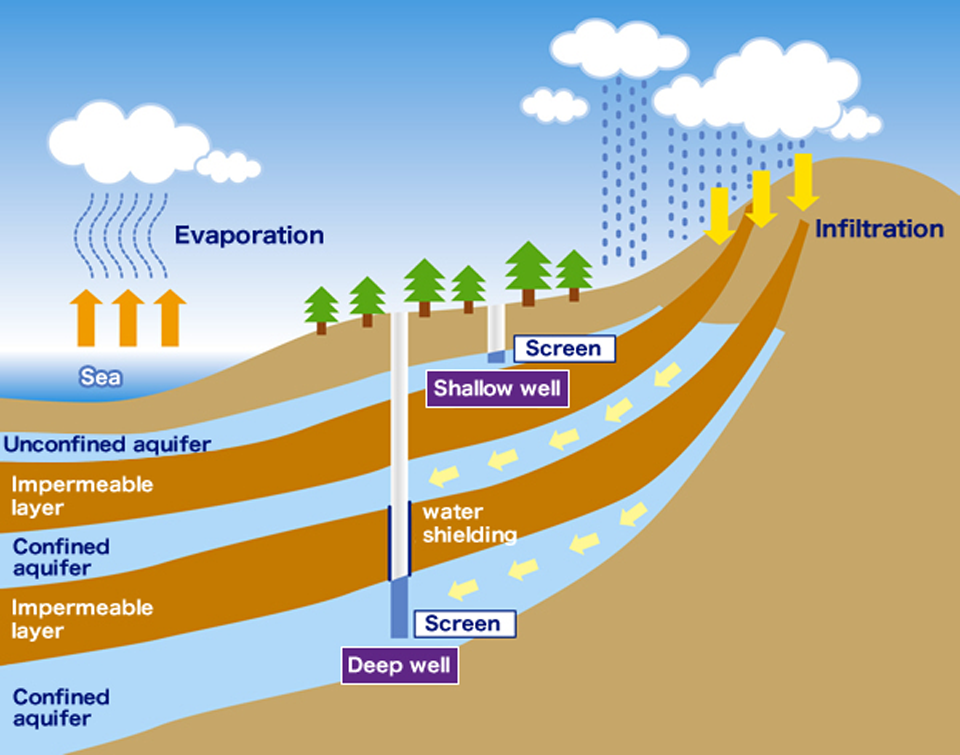 Safe water supply using high-resolution membrane
By employing high-resolution membrane elements for filtration, chlorine-resistant bacteria and protozoa that usually cause food poisoning will be removed.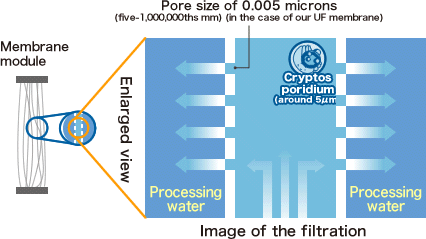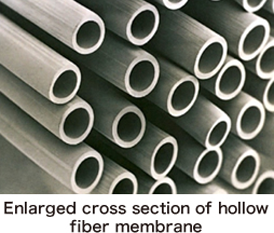 With the technology and know-how that we accumulated from the experience in Japan, we hope to contribute to improving the water and environmental issues in the world.
Our policy
We supply safe water to people in the world by expanding our "decentralized water treatment & supply system" overseas.

A decentralized water treatment & supply system has a capacity to produce approximately 50~2,000m3/day of water and is equipped with a remote monitoring system. Compared to massive water works, our system needs less initial cost for installation and less energy cost and has low risk of water contamination due to minimum pipeline length from the system. Another advantage that could be appreciated overseas is its function as disaster prevention; having 2 water supply lines as back up for one another. It is foreseen that this type of backup systems will be taken up even more in the near future. Thus, our systems continue to attract public attention as a new generation water supply system even after over 1,300 projects being operated.
Within the business scope of water, environment, disaster prevention and IT (remote monitoring), we will make the best use of the technology and knowledge that we accumulated in Japan in order to provide customers with the appropriate engineering solution to meet their needs.
Project categories
Category
Examples

Engineering, Procurement and
Construction (EPC)

- Installation of water treatment
systems

- Installation of remote
monitoring systems

Other business

- Decentralized water supply business
- Technology transfer
- Feasibility studies (FS)
- Pilot studies